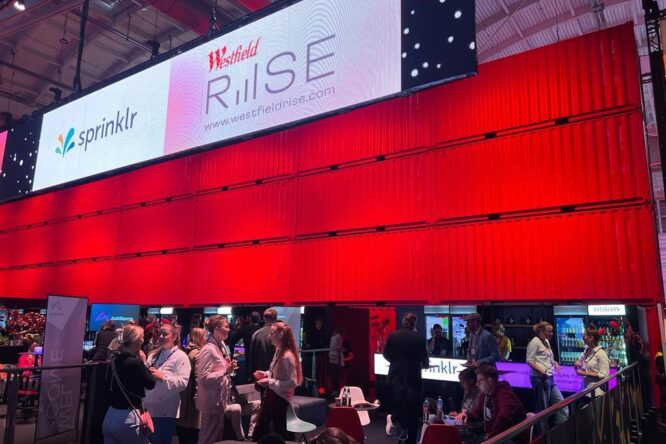 7 stages, over 800 speakers, and 70,000+ festival-goers. That's the sober, number-crunching appraisal of the OMR Festival in Hamburg. We, on the other hand, reckon it was colourful, totally overwhelming and at times a bit on the wild side! But let's rewind: At the beginning of May, the Westfield Rise team spent two days at one of the foremost trade fairs for all movers and shakers on the digital and marketing scene. Our vantage point – in a lounge right by the Red Stage – meant we were right in the middle of things when big-name speakers were discussing their visions for the future of marketing, and as top international acts got the crowds moving at the after-show party.
For the entire Westfield Rise crew, the lounge proved to be an ideal base in the midst of all the hustle and bustle, and the relaxed atmosphere gave us the opportunity to engage with our international colleagues – who had travelled in specially for the OMR Festival – and network with clients both actual and potential. Beyond that, we tried to join as many agenda points as we could of the very full event programme on offer and were able to follow a whole series of inspiring keynote talks as well as going on a tour of the exhibitor area with lots of exciting innovations. We were also lucky enough to get places in some of the exclusive Master Classes on current trends. You couldn't ask for more – except maybe a bit more sleep.
The saying 'the best comes last' was certainly true of the OMR Festival, and our absolute highlight was definitely the concert by Macklemore at the end of the second day! Partying hard with the whole team in a hall that was bursting at the seams – what better way to process all those fresh impressions?
To top it all off, we finished our trip with a visit of the Westfield Hamburg Überseequartier construction site. You can already see real progress here, and we were able to visualise everything much better straight away. We're looking forward to holding lots of unusual and creative brand promotions there from next year onwards – and who knows? Maybe we'll also be able to apply one or two of the new suggestions and ideas we took away from OMR.