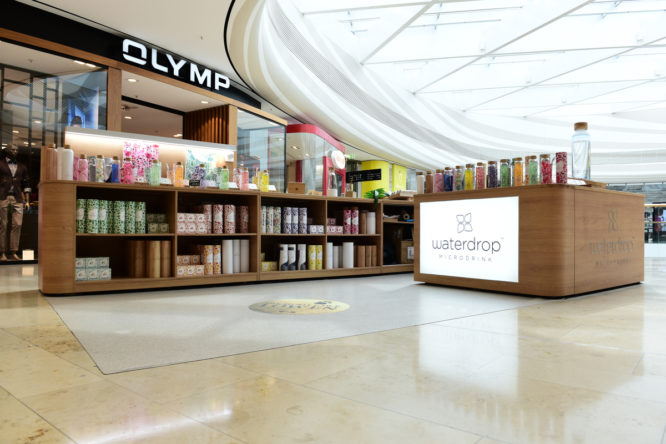 Many of our centre visitors know and love the stylish wooden stands selling these refreshing soft drinks. But most people will probably not be aware of the back-story. Indeed, the remarkable transformation of a start-up featured in the TV show "The Dragons' Den" into an international business is a success story that we're truly proud to be a part of.
The business we're talking about is, of course, Waterdrop. And who better to explain why our partnership works so well than the founders themselves?
Can you guys still remember how you came up with the idea of offering your micro-drinks in shopping centres back in the day?
Waterdrop: Certainly can! Actually, we started off wanting to grow our brand awareness in Austria and introduce people to our idea of a healthier lifestyle using the slogan 'Drink More Water'. As you can imagine, Austria's largest shopping centre, Westfield Shopping City Süd just outside Vienna, was the perfect place to do this. At the time, we weren't too well acquainted with the world of retail and shopping malls, but right after our initial contact with the CP team we made the decision to take the plunge. The professional advice and guidance has been a great help. We were also provided with our first stand, something which reduced the initial cost and broke down barriers to entry. This enabled us to dip our toes and test this market.
And this test was so successful that you also moved straight into other shopping centres as well. How did that come about?
Waterdrop: We had a lot of interested parties right from the outset. The proposition and the free tastings got people's curiosity going. Of course, our stand's excellent location in the mall was also a factor. One thing led to another, and what was a promotion case quickly became a business case, so we also took up residence in other URW shopping centres, and thanks to the international network we now have a presence in malls in lots of different countries – including a stand in the Westfield World Trade Center in New York.
Where is Waterdrop today, four years after opening the first stand?
Waterdrop: We've been able to multiply our turnover in recent years and have made the leap into food retailing in several countries. Also, we now operate over 20 stores and stands across the world. If someone had told us that four years ago, we certainly wouldn't have believed them! We also have URW to thank for this. Our partnership has grown over the years, and through mutual trust and understanding we've been able to target the right malls and implement our stand projects really easily. So we're already looking forward to many more years of success – because our thirst is far from quenched.